Which provider would you choose if you were a manager of a large corporation looking for an email service provider with end-to-end encryption and a large number of integrations? Or suppose you have a blog for which you need an email marketing service provider. Which provider will you go for?
After doing some research, you are probably stuck between Constant Contact and ConvertKit. Both of these are email marketing services. They are both good for their intended purposes. So what are these purposes, you may ask? And who wins when you compare Constant Contact with ConvertKit?
Let me tell you one thing. Based on your needs and business, the answer will vary. Let's see a detailed Constant Contact vs. ConvertKit review to help you understand which one you should go for.
An Overall Rating Of Constant Contact VS. ConvertKit
| Title | Constant Contact | ConvertKit |
| --- | --- | --- |
| Value for money | ★★★★★ | ★★★★★ |
| User friendly | ★★★★ | ★★★★★ |
| Features | ★★★★ | ★★★ |
| integrations | ★★★★★ | ★★★ |
| Customer support | ★★★★ | ★★★★★ |
| Overall rating | 4.4/5.0 | 4.1/5.0 |
Constant Contact VS. ConvertKit Pros
Here is a brief discussion about the pros of both providers:
Constant Contact VS. ConvertKit: Cons
Here is a brief discussion about the cons of both providers:
General Differences Between Constant Contact And ConvertKit
A Brief Idea On ConvertKit
ConvertKit is widely regarded because it is a platform that provides email marketing automation. The concept of email marketing combined with marketing automation is fantastic. However, it is sadly constrained in several ways.
Because it is a simple email sequence builder that is promoted as an email marketing tool for anyone who wants basic automation, only email distribution along with audience segmentation can be automated.
What ConvertKit Offers
ConvertKit, unlike Constant Contact, has a limited feature set that appeals to a much smaller audience. One thing to not neglect is that it may have fewer features, but the ones it does have been carefully selected to meet the needs of the intended audience.
And it is a platform for individuals who focus on a particular kind of content. ConvertKit is used mostly by YouTubers, bloggers, podcasters, and solopreneurs because of its reasonable price, simplicity, and unparalleled customer experience.
Basic And Key Features Of ConvertKit
Let's look at the key features of ConvertKit:
Sell Digital Products And Services
ConvertKit facilitates the sale of digital goods and services. It provides in-depth data so you can see what is succeeding and what is not. Lead magnets are another way to grow your email list with this tool.
ConvertKit also assists you in creating sales pages with unique 'buy now' widgets. In just a few clicks, it will supply all of the digital goods. There is no requirement for any third-party integration.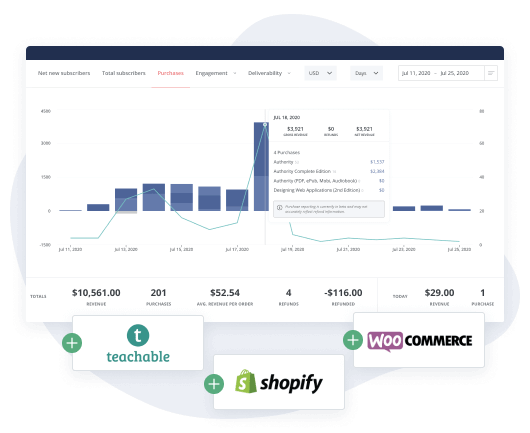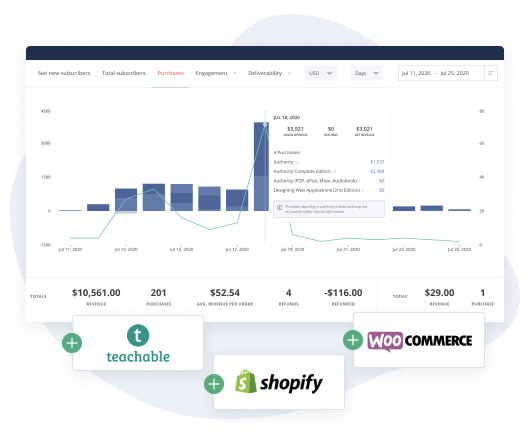 Features of Email Promotion
To increase open rates and clickthrough rates, personalize your emails based on the audience segment. You could, for example, deliver Content A to beginners and Content B to experts. That's a fantastic achievement. ConvertKit also makes it simple to send emails that highlight your company's logo.
For a personalized touch, email templates are also available to use and build. You can also decide to send customers timed content. Additionally, by using this, you can automate your marketing funnel like a professional.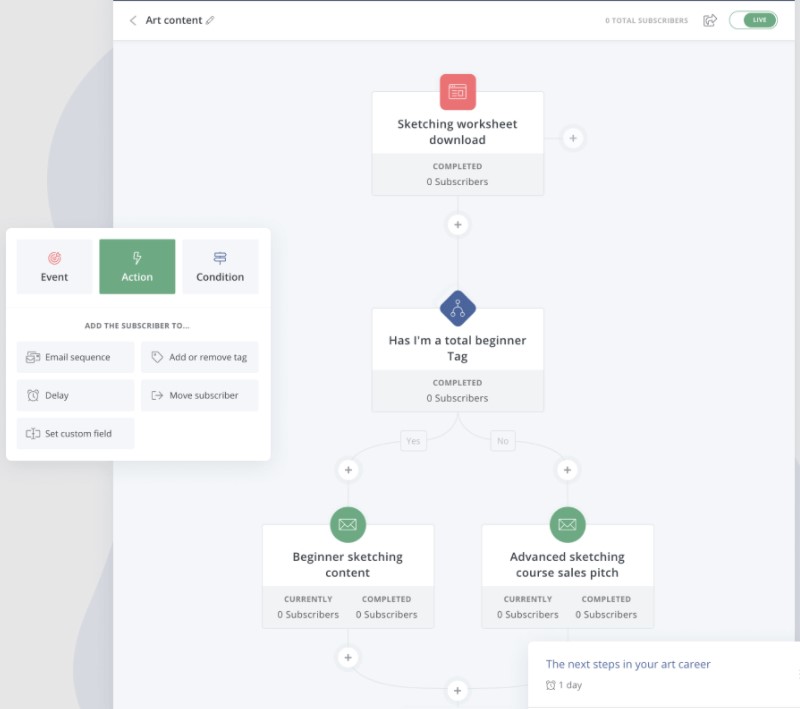 Creator Pro
Content creators such as bloggers and YouTubers will benefit from the Creator Pro feature of ConvertKit. as it includes options like sending personalized emails and using the "Deliverability Reporting dashboard," among other things.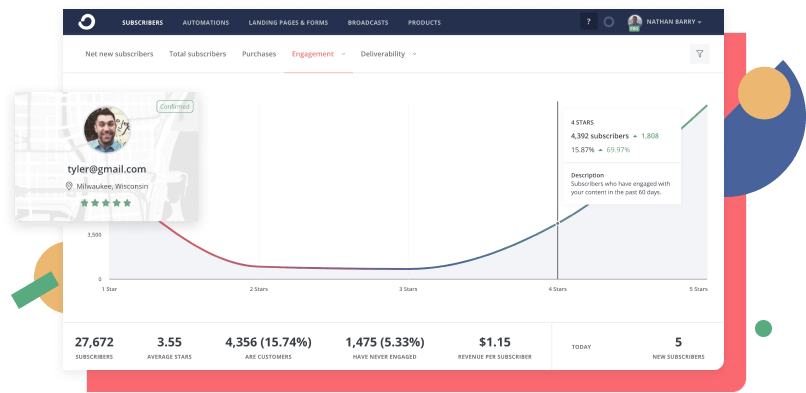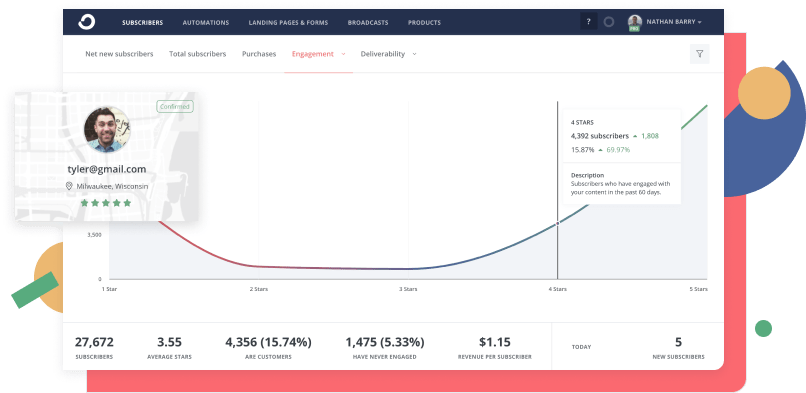 To reach specific individuals with your advertisements, you don't even need to establish Facebook ad segments. ConvertKit divides your Facebook traffic into distinct groups. The application also allows you to correct a link that was incorrectly inserted into your email.
A Brief Idea On Constant Contact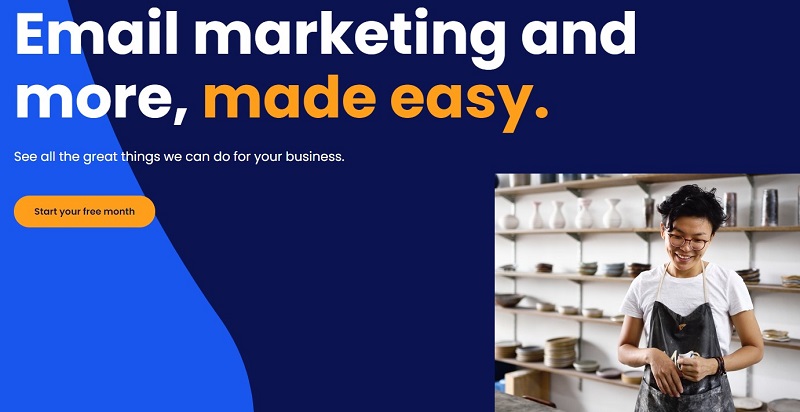 In comparison to ConvertKit, Constant Contact includes a wider choice of marketing apps and services. These services are designed to assist SMEs and charitable organizations in capturing extra clients and building stronger relationships with them.
Social campaigning, email marketing, survey administration, promotional events, reporting, are just a few of the features available. This service outnumbers ConvertKit, which focuses solely on email marketing.
What Constant Contact Offers
Smaller businesses are able to extract customer information from email clients and files using this system's email marketing services. Clients can also personalize email sign-up options for social media accounts and integrated web pages to add new subscribers to their email lists.
Constant Contact offers consumers dozens of configurable templates with simple drag-and-drop features, as well as real-time reporting capabilities for social shares, (CTR), email views, and forwarding, among other metrics.
It helps in collecting contacts from diverse databases and adding them to a single unified or many lists based on particular trigger points, all without disrupting the system.
Constant Contact provides personal and online training sessions to help consumers attract new customers for their business and improve their results.
Constant Contact not only offers fair pricing but also provides extra customer services and assistance, allowing users to gain greater skill with the platform.
Basic And Key Features Of Constant Contact
Let's look at the key features of Constant Contact: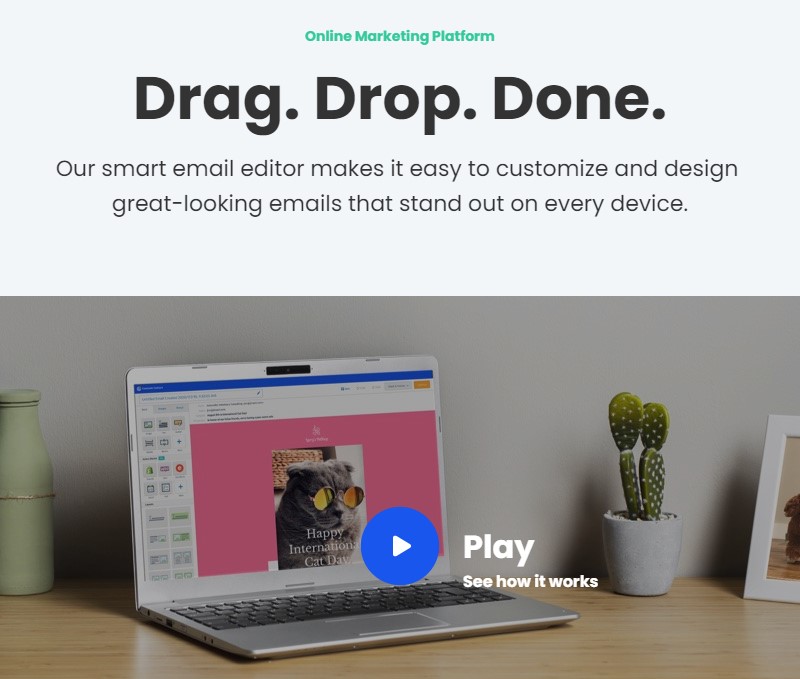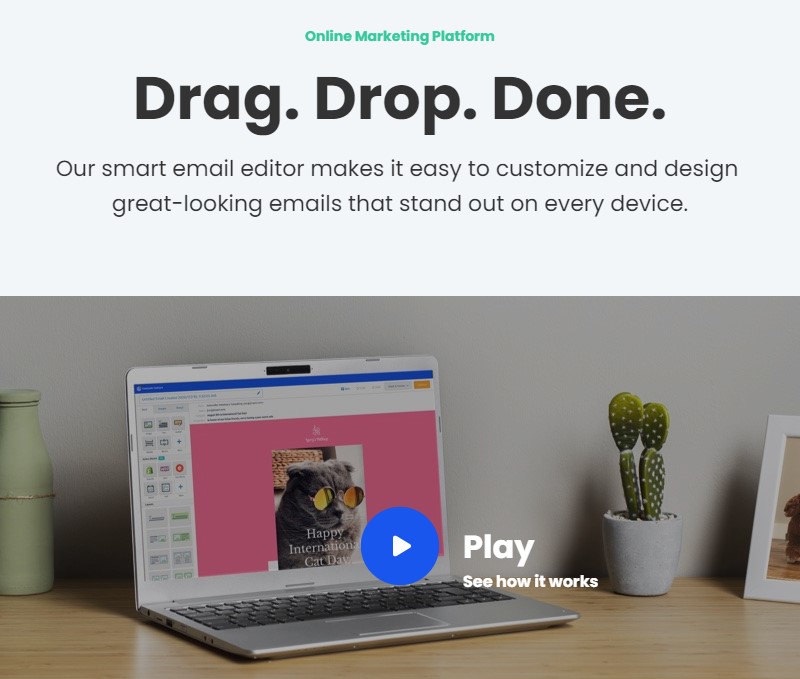 Marketing Via Email
Constant Contact enables you to develop professional-looking email campaigns. The email writer is intelligent enough to allow you to personalize and customize your messages. It is also responsive to practically all devices around the world thanks to technology.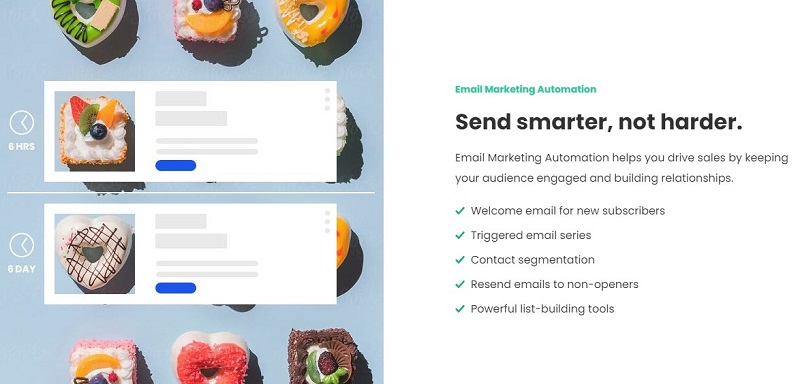 Email marketing tools help you boost sales by sending welcome emails, prompted email series, and customer categorization. Also, it enables you to send emails again to people who don't open them the first time. Without a question, this can be a huge benefit.
Tools For E-Commerce
Constant Contact makes it easy to find new consumers and stay in touch with them while on the go. Your emails can be easily tracked, segmented, and automated.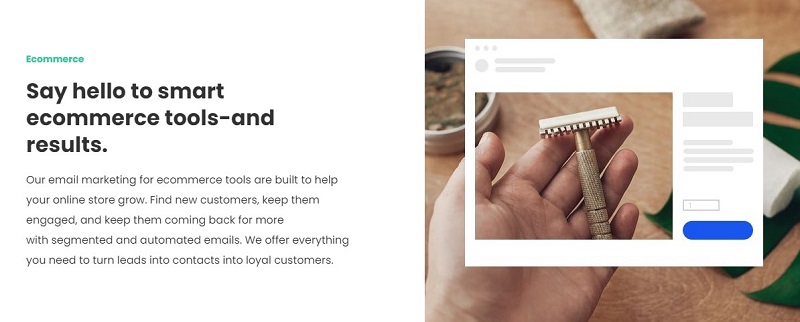 Marketing On Social Media
Constant Contact is used to keep in touch with the audience regularly. For that, the software assists you with both social media and email marketing. You can use the software to post and plan your social media updates. It also assists you in making data-driven decisions.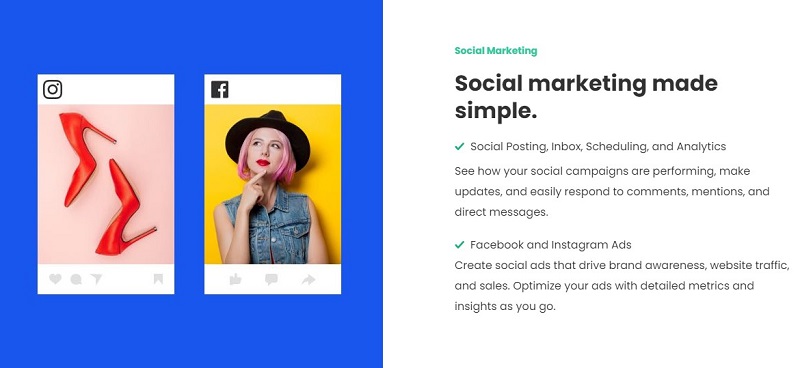 Tools For Tracking
Constant Contact allows you to keep track of your progress on a real-time basis. You can also upgrade them in this way. Well, what that means is that you will see who is viewing and forwarding the email.
Tools For Event Management
Many email marketing systems lack features such as event management systems. However, Constant Contact allows you to use email marketing strategies to promote attendance, charitable events, and amusement concerts, among other things. The "Eventspot" option has many things to offer in terms of making it easier to organize your events.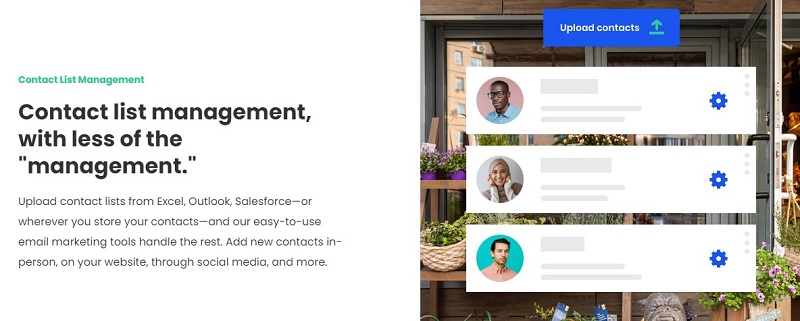 Constant Contact And ConvertKit Integrations
Along with the key feature, you need to look at the specific integrations you will need and whether the service you want to go for has those in integrations. Here is a short comparison of the most popular integrations:
| Integrations | Constant Contact | ConvertKit |
| --- | --- | --- |
| Lead scoring | ✔️ | ❌ |
| Lead segmentation | ✔️ | ❌ |
| Leadformly integration | ✔️ | ✔️ |
| SMS marketing | ✔️ | ❌ |
| Personalize web content | ✔️ | ❌ |
| Predictive analytics | ✔️ | ❌ |
| Outlook integration | ✔️ | ✔️ |
| Event management | ✔️ | ❌ |
| Create invoices | ✔️ | ❌ |
| Gmail integration | ✔️ | ✔️ |
| Salesforce integration | ✔️ | ✔️ |
| SugarCRM integration | ✔️ | ✔️ |
| Bulk social media posting | ✔️ | ❌ |
| Sales reports | ✔️ | ❌ |
| Real-time sales alerts | ✔️ | ❌ |
| Mobile app | ✔️ | ❌ |
| Microsoft Dynamics integration | ✔️ | ✔️ |
| Zapier integration | ✔️ | ✔️ |
Additional Comparison Of Qualities Constant Contact VS. ConvertKit
These qualities can be a rule breaker or maker for you when you are deciding to invest in either Constant Contact or ConvertKit. Have a look at these compared qualities:
Devices Supported
Constant Contact supports Windows, Linux, Androids, iPhones, iPads, Macs, and it can also be used as a web-based server, whereas ConvertKit can only be used as a web-based server.
Companies Supported
Constant Contact is for small to medium businesses and even for large enterprises. But ConvertKit is only for small businesses and freelancers.
Support Provided
In Constant Contact, you will get an email, phone, and ticket support as additional support. Among these, ConvertKit doesn't provide phone support, but it does offer training for users.
Pricing Model
Both Constant Contact and ConvertKit packages are paid in a monthly system. But ConvertKit takes a "quote-based" payment also.
Pricing Of Constant Contact And ConvertKit
Both Constant Contact and ConvertKit have a free trial option and are subscription-based. They don't ask for any credit cards. Let's look at the details of the packages.
Constant Contact Pricing Plan
You may get started right away with a 60-day trial version. No servers provide free trials when it comes to email marketing. After the free trial, you can choose from one of their cost-effective programs listed below.
sending emails to 500 or fewer contacts, you can start with the starter package. $20 per month, the expenses gradually rise to $45/month when your customer base reaches 2500, and it will be $65/month when the number of subscribers reaches 5000.
The fee, like that of any other email marketing service provider platform, rises with the number of users and features.


ConvertKit Pricing
ConvertKit offers three different pricing options: 'Free,' 'Creator,' and 'Creator Pro.' You can get started for free if you have a subscriber base of less than 1000. Or then, if your subscriber base gets higher, you can buy a 'Creator' plan from ConvertKit that costs $29 per month. For up to 1000 members, you can also buy the Creator Pro, starting at $59 per month.
So why are the prices different for the same size of subscriber base? Although marketing digital goods, subscriptions, and email assistance are all included in all of the programs, none more so than the others. because the added features are different in each package. After this, you may then create an endless number of landing pages, broadcasts, and forms.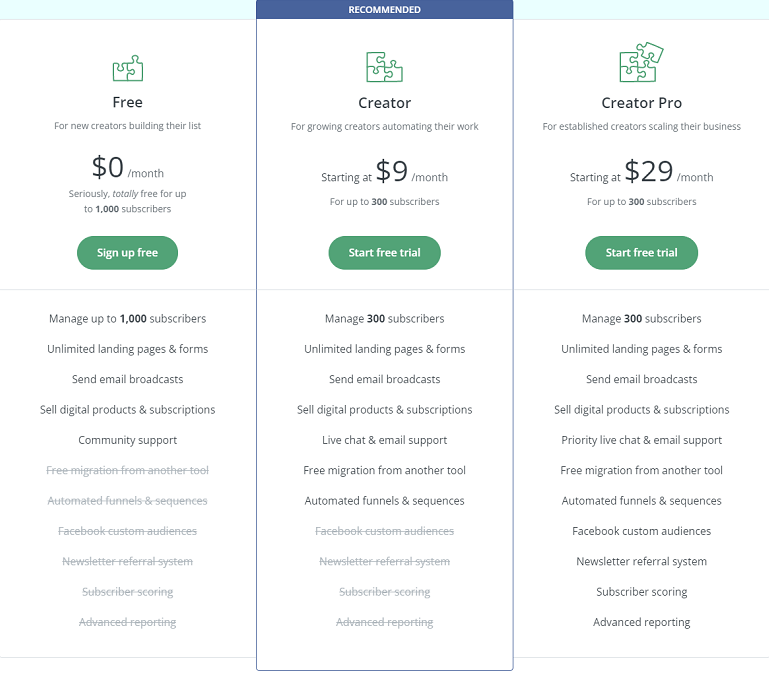 Final Verdict
So, who wins in the discussion of Constant Contact vs. ConvertKit? Well, in deliverability testing, both methods scored almost the same, with Constant Contact having a slightly better result. The most crucial thing to remember is that both items have excellent features. Each one is unique, catering to specific business areas and sizes.
ConvertKit is a wonderful place to start for blogging, content creation, and small businesses searching for simple services. Constant Contact is a better alternative for nonprofits and large enterprises wishing to provide a range of approaches and features since it helps you to achieve your business goals without needing to pay email delivering companies.