Are you a freelancer who works as a keyword researcher? Or are you a newbie who wants to set up your SEO-optimized website without a specialist? But you don't know how? Well, you now have something to aid you.
To help you in your job, RankTracker brings you an SEO tool that helps you see how your SEO strategies are doing in real-time. The RankTracker tool tracks the site's movement in various search results pages, providing you with valuable alarms and visual summaries regarding your SEO-optimized website.
Let's see a detailed RankTracker review and learn all about the RankTracker lifetime deal to get the best out of this SEO tool.
RankTrcker Overview:
RankTracker gets a 4.5 star out of 5 based on four of the aspects we have looked at. Here is a short overview:
| Title | Review |
| --- | --- |
| Support | ★★★★ |
| Growth | ★★★★ |
| Cost | ★★★★★ |
| Ease of Use | ★★★★★ |
| Overall | 4.5/5 |
RankTracker Review: How It Works?
You just need to go into the tools and put your keyword into the designated box. You have to choose your country or language. Then, depending on your next goal, you can check the difficulty score, your SERP feature impact, or the minor or major issues with your webpage.
RankTracker Features
Many interesting features put RankTracker on the top tier of SEO tools. From basic keyword finding to setting up your SEO-optimized website, RankTracker helps.
Keyword Finder
This will help you explore the up-to-date worldwide database for the greatest SEO keyword prospects. Simply input a string of words to view a list of comparable keywords along with volumes of search and complexity ratings.
SEO difficulty keyword tool: When you put in a keyword, you will see a number given for it. The closer that number is to a hundred, the more competitive you will have to be for that keyword. So you can see how hard it is to get a ranking for them.
Find Long Tail Keywords: these are specialized keywords with a lot of traffic but few competitors. It will find you the finest ones for you and make it simple to include them in your SEO plan.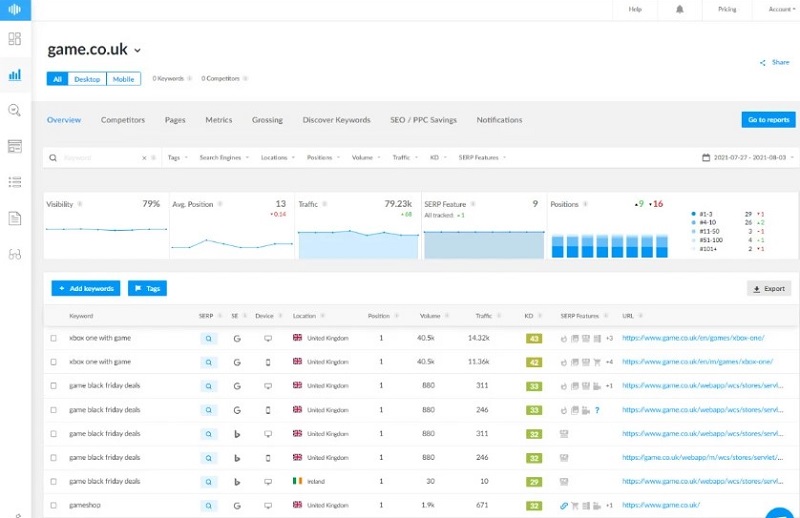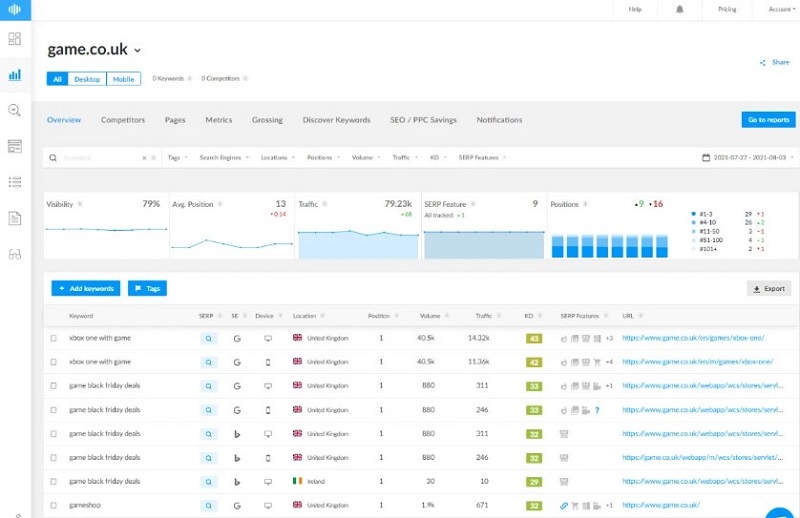 SERPs Checker
You can check the top Google search for a word with RankTracker. What this feature entails is:
Detailed Google SERP Insights: You can see a detailed overview of all the Google searches for any keyword search. Type a keyword to discover who ranks for it and how well you can compete with them.
Analyze Local SERPs: this feature will display search queries for a certain nation, location, city, or neighborhood, allowing you to identify the greatest keyword prospects.
SERP Features And Snapshots: You can type in any keyword to check whether any SERP features, like maps, ratings, highlighted snippets, and purchasing links, are shown for it. If they do, you'll get a snapshot glimpse. Pick the keywords that have these to drive more visitors to your site.
Strength Of Authority And Link Profile: the scores you get from here will assist you in identifying the most easily replicated and powerful rival connections. They are computed using a variety of measures, such as citation flow, trust stream, and social signals, to provide you with real findings.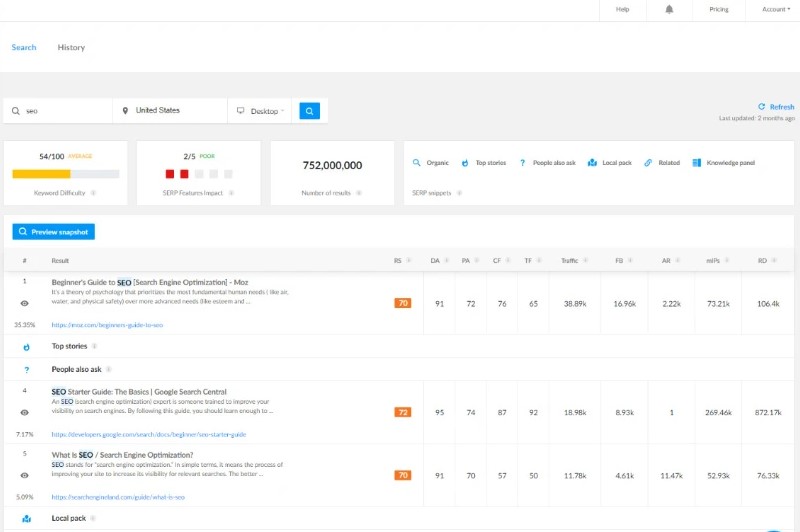 Web Audit Tool
With this feature, you can assess your entire website in no time to see how effectively it is optimized. This feature entails scanning, XML reports of the scanning, urgency levels, actionable insights, comparison of previous scans, and evaluation of the content.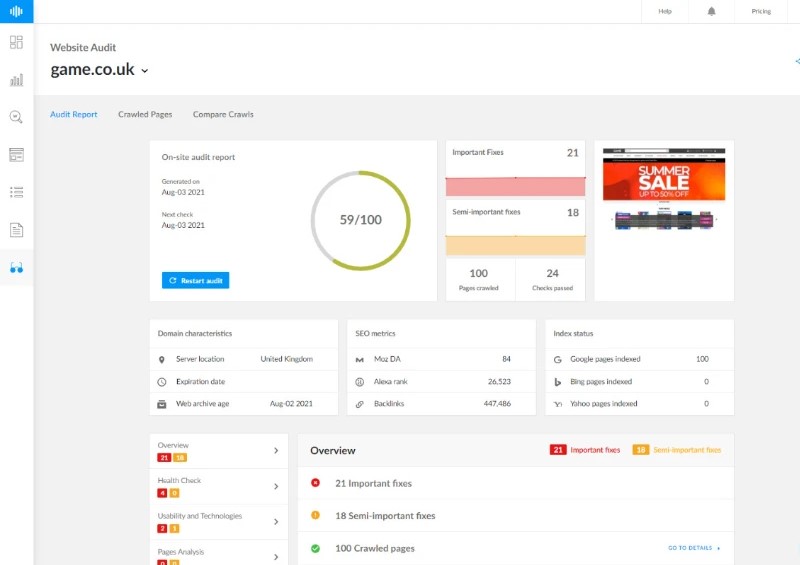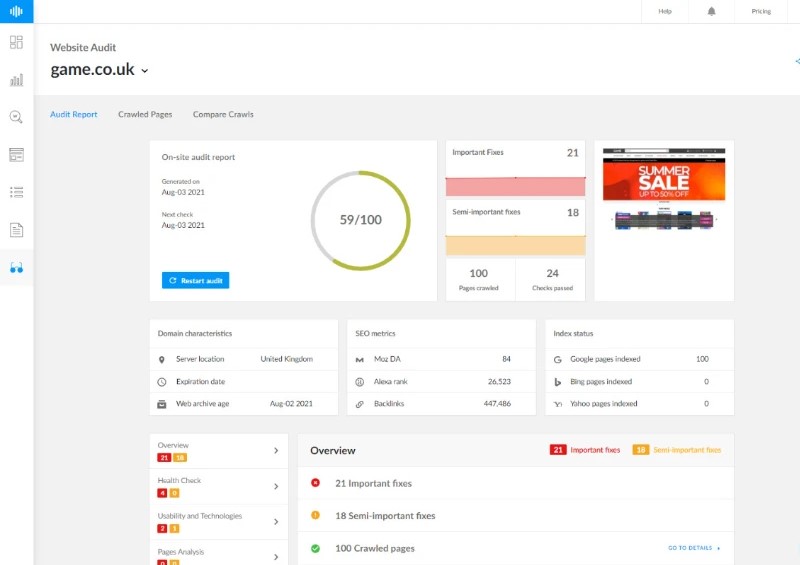 Actionable SEO Tasks
The task checklist provides a structure for implementing all of your SEO principles. Just make your way through everything, marking activities as completed as you go to keep track of your progress. This feature entails:
Setting up: When launching a new website, you can learn everything about setting up an SEO-optimized website.
Researching keywords: it will also help you to discover the ideal options for your new web page by giving you the right keywords.
On-page SEO: You will find implementable tasks here which will assist you in optimizing everything on your site for search engines, from headers and page content to pictures and hyperlinks.
Content strategy: You will find the correct content strategy which will enhance your webpage.
Off-page SEO: Develop an off-page SEO plan to attract relevant sites to connect to yours.
Social Media: You can align your social media activities with the optimization plan to increase visitors
Ranktracker As An Alternative to SEMrush & Ahrefs
RankTracker can be an alternative to both SEMrush and Ahrefs as it has all the qualities of these two and more. Plus, you will save a lot with the budget-friendly and resourceful packages of RankTracker.
Title
SEMrush
Ahrefs
RankTracker
Best Features
A lot of data, not only about SEO but also about PPC.

Its site auditing capabilities are more thorough and user-friendly.

When it concerns the number of records you may pull every day, SEMrush gives you more leniency.
It is often favored because of its extensive data analytics and regular updates.

Ahrefs has a professional SEO network on Facebook and valuable marketing lessons.
Along with all the pros mentioned above,

Very cheap.

It can be used for SEO, SERP, PPC, and as a tool for keeping your progress on track.

Keeping your progress on track.
Drawbacks
Extremely costly.

Google Ads' monitoring metrics are quite restricted.

On the commercial side of things, it's not that useful.

Metrics for social media reporting are quite restricted.
Extremely pricey.

User-friendly for beginners.

Not integrated with Google analytics
Need proxy servers.

No automatic tracking of rankings.
Price of the beginner packages
Pro: $119.95 per month
"Lite" combo: $99 per month
RankTracker: $9 per month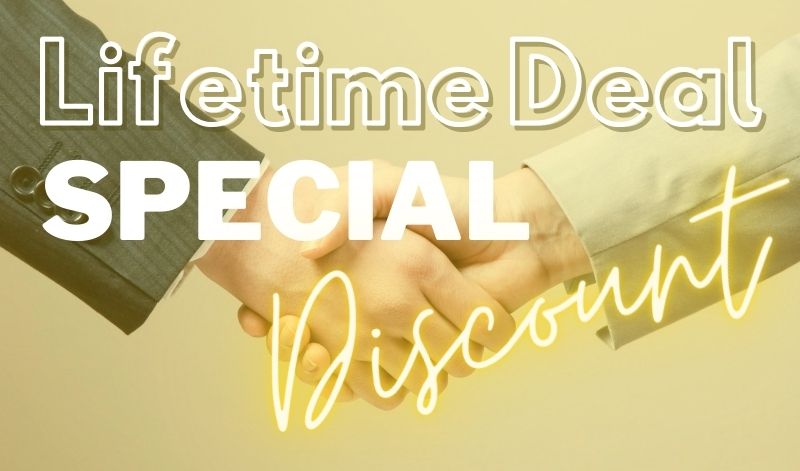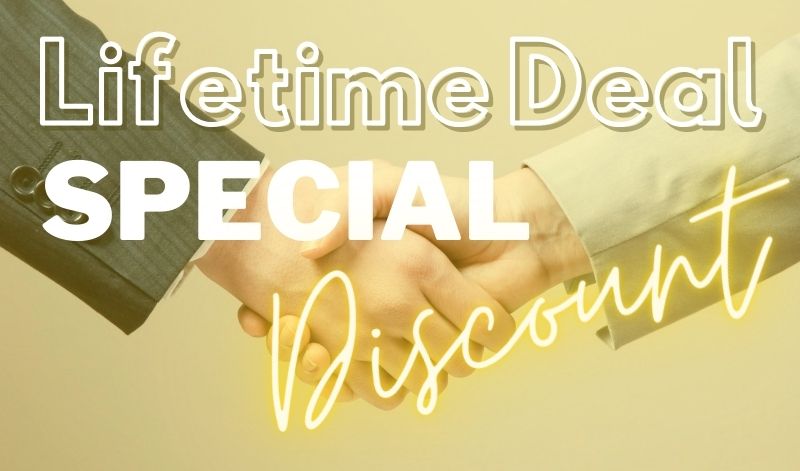 RankTracker With AppSumo-A Lifetime Deal
The affordable deal from RankTracker is now cheaper with AppSumo. Purchase it once and enjoy it for a lifetime. The deal comes in three tiers to suit every customer's needs. These are the services that all these offer tiers give you:
The difference between these three tiers is very low. Here is the comparison chart:
| Title | Tier 1 | Tier 2 | Tier 3 |
| --- | --- | --- | --- |
| Price With AppSumo | $49 for a lifetime | $99 for a lifetime | $199 for a lifetime |
| Price Without AppSumo | $768 | $883 | $1068 |
| Keyword Monitors | 100 keywords every day. | 200 keywords every day | 500 keywords every day |
| How Much You Save | $719 | $784 | $869 |
How Much You Save if Buy With Appsumo Lifetime Deal!
RankTracker For Freelancers: How to Make $20 or More Per Hour!
RankTracker is specially designed for you if you are freelancing as a keyword researcher or want to start as one. Along with Keyword Research. A keyword researcher can find many jobs, such as
Competitor analysis, keyword ranking, PPC campaigns, and optimizations
Looking for backend keywords, seed keywords,
These jobs will earn you $8-$50+ per hour, depending on your performance and gigs. These jobs won't take much effort but earn you well if you do them with RankTracker. Let's see how RankTracker helps you in doing your job well.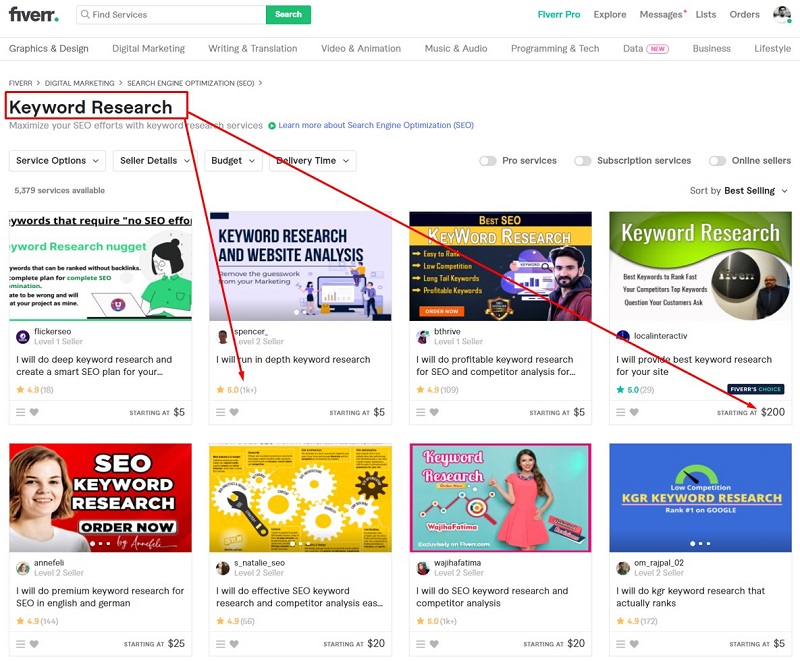 Competitor Research: Put a word of your choice in RankTracker and you will find all the competitors for that keyword in your customer's region, country, etc. You will also be able to see 20 competitors per domain. You can charge more than $45. for every ten competitors. Your job will be that much easier.
Keyword Ranking: You can search for where a keyword stands in difficulty level. This service will help you earn more than $8 per hour. You can also search for which keyword has less competitiveness in Google insight and choose that keyword. You will be able to earn $40+ for every 100 keywords you provide.
PPC Campaign And Optimization: This is one of the most profitable services. You can either charge $250+ for each campaign. Shorten the delivery time and you can earn a few extra bucks.
Or you can ask your customers to subscribe for a few months and charge that way too. Either way, earn more and use RankTracker for easy completion. Including the service of checking the ongoing management can help you in increasing the payment.
Backend And Seed Keywords: Just put the keyword of choice in RankTracker and find every kind of keyword related to it and earn $40+ for every 10 keywords. You can add other services mentioned above and charge more.
Not only does RankTracker let you do all your jobs with no effort at all, but it can also help you attract customers. You can put a random keyword and put the snapshot of finding competitors, keyword ranking optimization in your gig. This way you can attract customers by showing your service.
Conclusion
RankTracker is not only an SEO keyword-finding tool but also everything you will need to run an SEO-optimized website. It makes sure you earn from it. With this detailed RankTracker Review and RankTracker lifetime deal, you will not only shine in your job, but you can also earn more than usual.
If you are a freelancer aspiring to be a keyword researcher, this is the perfect tool to have in your hand.