You want to do a podcast or tutorial video, but you are unsure about your auditory performance. Are you concerned about putting the right amount of expression in your tone? Politely, you are not alone in this struggle.
To save you from this dilemma, Listnr brings you an AI voice-over tool that lets you produce high-quality, natural-sounding audio via a text-to-speech interface. This text-to-speech software won't require you to provide any sort of recording to generate the audio files. You are one click away from having a professional-sounding voice-over.
Let's see a detailed Listnr review and learn about the Listnr lifetime deal to know all about getting high-quality podcasts and audios at a reasonable price.
Introduce:
Introduce
Listnr Review: How It Works?
The user manual is pretty easy. Just 3 steps and you are good to go.
First, paste what you want to convert into voice in the speech synthesis engine. Make sure to put in all the pronunciation marks. Then hit submit.
The synthesis engine will turn your pasted speech into an outstanding quality voice speech.
Using Lister's user dashboards, you may utilize the vocal speech as voice-overs for any films or release your blog content as podcasts on Spotify, Apple, and Google podcasts.
Listnr Features
Listnr is text-to-speech software that has the most unique features on the market. Let's look at the features.
High Quality, Human Sounding Voices
Making voice speech out of texts of your choice, which is not robotic, is hard. But with Listnr, it is very easy because Listnr offers more than 100 genuine and realistic voices to offer you the best service.
You can convert text to voice speech in more than 22 languages, so there is no need to worry about not having an English text. You can now have podcasts of your language without worrying about translating it into another language.
You can even have your own dialect chosen for all the voices. Listnr offers more than 4 dialects for each kind of voice.
Automatic RSS Feed Of Your Podcast
A podcast provides you with your own media outlet where you can showcase your skills on a weekly basis. The exposure then helps you in your career. Listnr helps you in that by automatically generating your RSS feed.
Because whenever you submit new material, your RSS feed is refreshed, which updates your podcast on all sites where you've hosted it. As your RSS feed is refreshed, your podcast will be updated on all the hosted sites such as iTunes, SoundCloud, etc.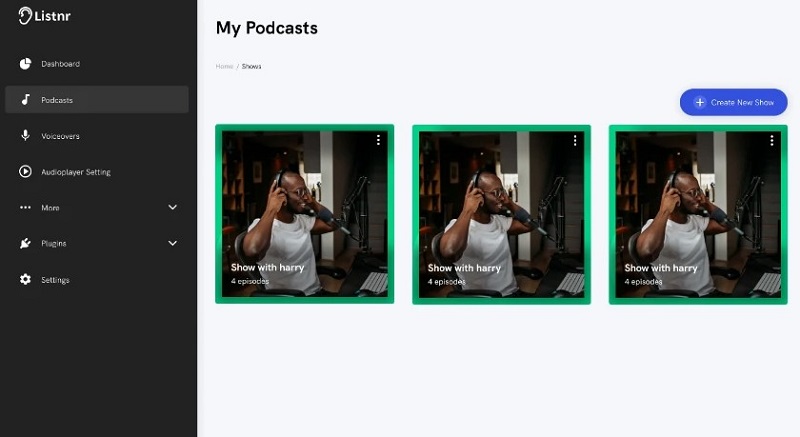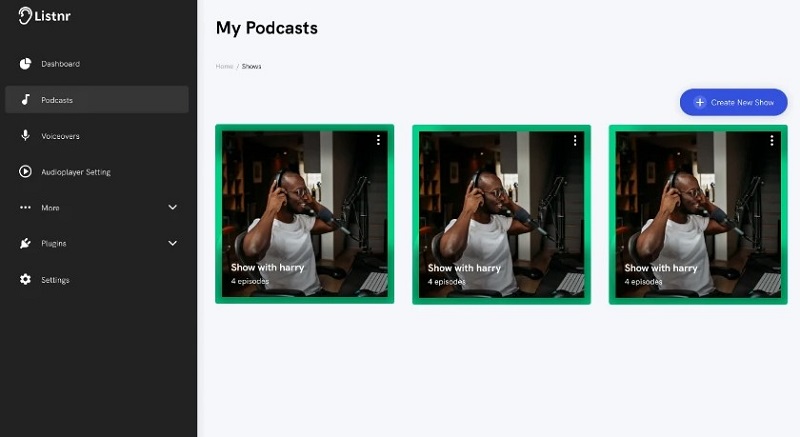 Publish To Any Podcast Hosting Platform
You can use Listnr to publish a podcast. You don't even have to put much effort into that. As soon as you submit the material, it will be published.
You can even expand your reach, as Listnr also allows you to publish your podcast to any other podcast hosting site, including Transistor, Spotify, Google Podcasts, and many others.
Social Sharing
What could be better than sharing your podcasts with your friends and family? It can increase your fan base and subscriber base.
Listnr makes it easier for you by allowing you to share your text-to-voice podcasts on your various social media accounts. Only one click and your podcasts are published on your Facebook, Twitter, and Instagram accounts.
Listnr gives you the ability to create and maintain different social media accounts for each episode of your podcasts which you can use to share your podcasts on these social media channels.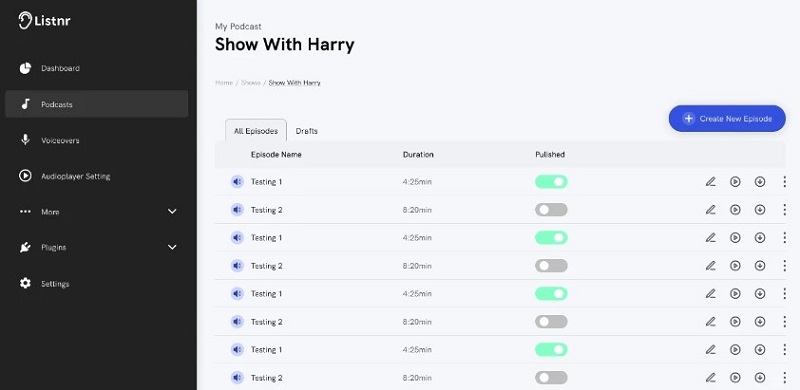 Custom Podcast Page
In this era of various content creators, what is the best way to shine? Make your own custom pages of content. And the different pages can grab the attention of users. This is also an excellent method to encourage your podcast listeners to interact and express their thoughts via comment sections, social media platforms, and other ways. This will also boost your content reach.
Well, you can now make a custom podcast page to broadcast a personalized podcast show. What's better is you can even use Listnr to distribute it to your audience on every platform.
Embeddable Audio Player
Reading the long content of any website and blog can get very dull at one point. But what if you incorporate podcast episodes with your web and blog content?
You can use Listnr to incorporate your podcast episodes or voice-overs into your website or blog because Listnr can produce embed codes of the podcasts you make, which you may then put on every website, whether it's an HTML site or WordPress.
Listnr With AppSumo
AppSumo brings you the best deal on Listnr for a lifetime. Purchase only once and enjoy it all your life. The Listnr lifetime deal starts at only $79
Terms of Purchasing With AppSumo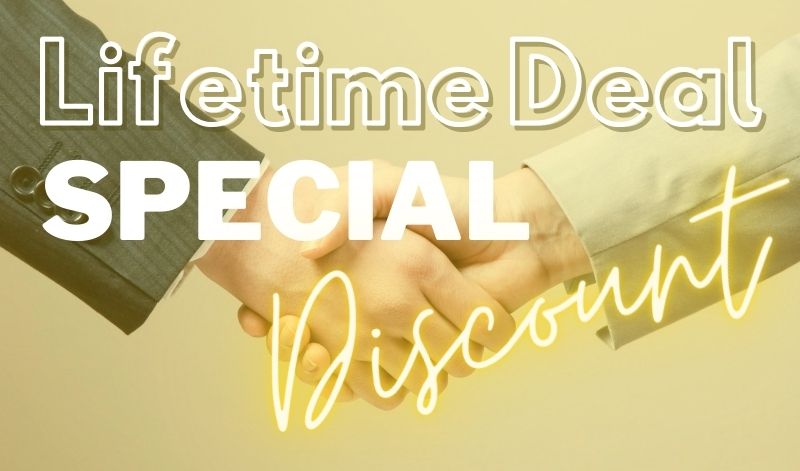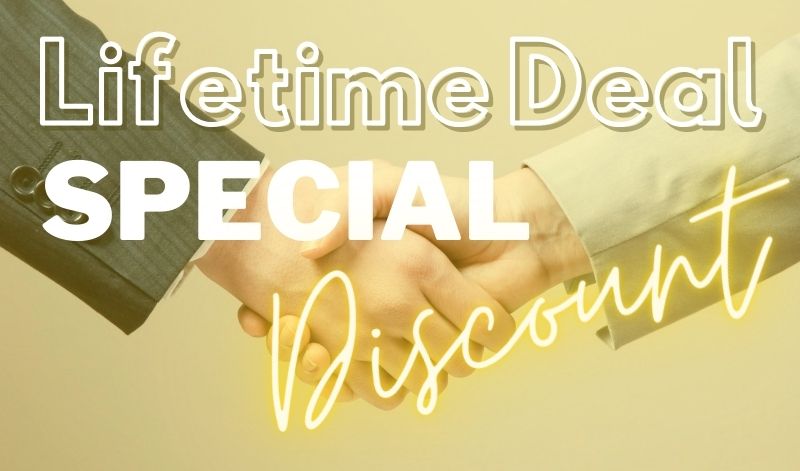 Plans of Listnr with AppSumo
There are 3 kinds of "lifetime" plans for Listnr in AppSumo, which are listed as "single", "double," and "multiple". All of these types of lifetime plans have some services in common. Those services are,
There is no limit to the number of automated conversions.
There's no limit to podcast hosting.
Infinite Podcast programs are available.
Players can be modified in an infinite number of ways.
There is no limit to the number of summaries and embeddings that can be created.
You will get iTunes, Spotify, and Google Podcasts RSS feeds.
You can have access to Chrome extensions
You will have permission for commercial distribution.
Analytics and modifications for audio players are available.
You will get white labeling.
However, in terms of pricing and the word limit, all of these packages are different. Here is a comparison chart of all the available options.
| Package Type/Features | Single | Double | Multiple |
| --- | --- | --- | --- |
| AppSumo Deal Price | $79.00 | $158.00 | $237.00 |
| Word limit | 75,000 per month | 150,000 per month. | 250,000 per month. |
| Actual price of the package | $1800.00 | $2400.00 | $3600.00. |
| How much you save with AppSumo | $1721 | $2242 | $3363 |
If you want to check out the plans in detail in AppSumo, click here.
Purchase Listnr's Lifelong AppSumo Deal with Added Discount
Only new subscribers are eligible for the discount. You won't be able to get it if you have already purchased something else. What you have to do is: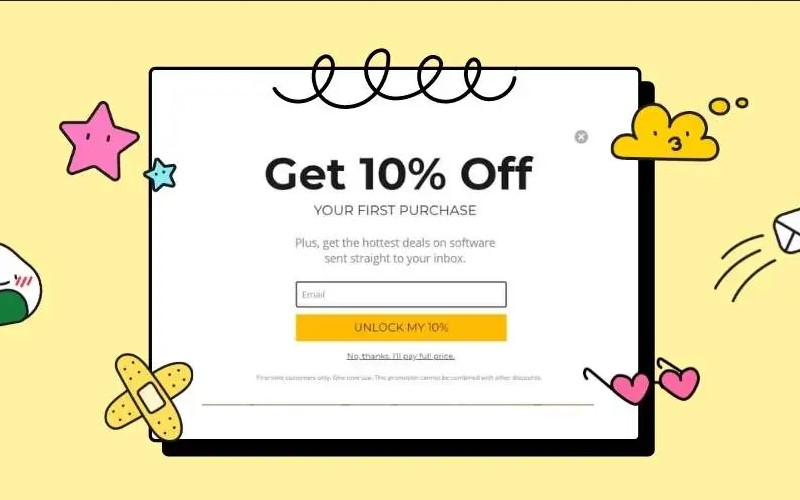 Listnr for a Newbie Freelancer: How To Make $200 or More
Whether you are an experienced freelancer or want to start freelancing in the future, Listnr is a great tool to have in your hand. Here are the things you can do easily as a freelancer with Listnr:
Text To Speech: You can useListnr to provide a realistic text-to-speech service to your customers. For every thousand words of text that you turn into speech, you can charge $20-$30. You can even transform the texts even when you don't know the language. Because Listnr will automatically turn it into a clear and well-spoken speech for you.
Podcast And Voiceover: You can provide podcast and voiceover services with the help of Listnr and earn $20-$200+ in just one hour. Just put the text into the synthesis engine and you'll get a natural-sounding podcast/ voiceover for your customer.
Audiobook: For each minute as an audiobook narrator, you can earn more than $10. Imagine how much you would earn for narrating an hour? Well, now imagine not speaking a word to narrate. Listnr will help you shine as an audiobook narrator without uttering a word.
Not only can you give service with the help of Listnr, but it can also help you sell those services. Suppose you use Listnr to show gigs in different languages and dialects. Customers will see those and know you are good at what you do. Or you can use a professional-sounding video to explain your service. Either way, you will attract potential customers.
Conclusion
Listnr is the most realistic, human-sounding professional voice-over tool in the market. With this AI voice-over software, you will be able to focus on generating outstanding content for the band or audience by using an easy layout and a plethora of personalization.
As it is no longer limited to podcasting and audio, it can even be utilized to produce lessons and offer tutorials. It is invaluable to have an audio content generator on your end. With the lifetime offer of AppSumo now, it's nearly priceless too.