Are you a user who uses Instagram for business? Do you want to grow your Instagram account to promote your business and various brands? It's kind of hard if you are starting from scratch and have a very little fan following. But it's possible with Kicksta. It makes sure that your Instagram fan following is growing without you breaking a sweat.
Kicksta is a follower-growing, AI-driven platform that brings organic followers to your account. It gives you a safe platform to raise your Instagram popularity without raising a flag about spam. It also has a lot of user support to make your navigation easy.
Let's look at a detailed Kicksta review so that you can decide if you want to invest in it.
Kicksta Review Overview
Kicksta gets a 4.6 star out of 5 based on five of the aspects we have looked at. Here is a short overview:
| Title | Review |
| --- | --- |
| Support | ★★★★★ |
| Growth | ★★★★★ |
| Cost | ★★★ |
| Experience | ★★★★★ |
| Ease of Use | ★★★★★ |
| Overall | 4.6/5 |
What is Kicksta?
Kicksta is a service that helps you increase your Instagram account. The program promises to assist customers in gaining 100% real Instagram followers. Getting genuine Instagram followers is a difficult task.
To generate trust and business confidence, many influencers employ fake accounts that draw a more fake following. But excellence over quantity is preferred by professionals, while social media marketing prefers the opposite.
In contrast to the competition, it adopts a different technique to connect with your fans. The service matches you with similar business Instagram accounts that have identical branding strategies. Kicksta states that it does not utilize spam, bots, or phony followers. Rather, they claim to use AI technology to boost real lead searches.
What Kicksta Is Not?
Kicksta does increase your followers, but it's not from those "buy ten thousand followers by spending $100" services. It results in a gradual increase in followers alongside the original followers.
What happens with buying followers is that these types of tools can cause a company's Instagram profile to be very bad. Because the bought followers are mostly inactive ghost followers that never engage. They only vanish when Instagram disables fake profiles in one of its relatively prevalent purges.
How Does Kicksta Work?
Kicksta has its own unique way of working. This is the pattern it follows:
How To Set Up In Kicksta?
Setting up in Kicksta is pretty simple and user-friendly. You will need three things to get set up.
Username of your account or your business accounts.
The password for the accounts
Target audience: You should approach accounts that are your rivals for the targeted accounts.
Kicksta Review: Detailed Features
Kicksta has very supportive and unique features that make your follower increment journey smooth and impactful. The features are:
Target accounts
It's the first bit of data you give Kicksta after you've completed the sign-up process. The major feature that drives the site's productivity is the target account function. It's how they pull it off.
The tool enables the provider to interact with the fans of your rivals and persuade them also to follow you. How Kicksta interacts with a potential follower:
Telling You About The Most Demanded Hashtags: Kicksta's one of the best features because it breaks down the specific hashtags and specific profiles that are doing effectively. Kicksta will remark whether you're following hashtags that generate a lot of search engine results.
When you follow any hashtag that is underperforming or has seen a major reduction in interest, you'll be notified as well. This is a really useful function to gain followers.
Exclamation points next to specific hashtags or profiles indicate that the aim has been reached. They advise you to ignore these specific hashtags and set your sights on the most demanded searches.
Throughout the profile-growing process, the information on target accounts is available on the Kicksta panel.
Gaining Followers
It is difficult for somebody to follow you back just because you are following them, however simple it might appear. Kicksta uses an automatic photo liking mechanism to like a maximum number of photos per day but in a non-suspicious way. It raises the likelihood that someone will like your account and follow you back.
How Liking Photos Increases Followers: When you set the rival's account as the target account, Kicksta begins liking pictures of the competitors' followers. They'll see that you enjoyed their work and return to your profile to take a look at it. Keep in mind that genuine Instagram users on your competitors' profiles could be actual Instagram fans on your account.
For instance, one of my friends recently got a new kitten, and he used his account, Persian.mimino, to post about it. As you may expect, there are already a lot of different cats and pet profiles on Instagram.
So, he focused on accounts that shared Mimino's breed of cat and hashtags. What it does is, the followers that follow those accounts, Kicksta could follow them. That way, he could attract the followers of other cat accounts.
This method might take a little time to grow, but you will gain real users as followers. Your account engagement grows as a result of the increased interaction.
Follow Back/ Unfollow Method
Kicksta has a follow-back feature that helps you keep track of profiles that haven't followed you back. To assess the service quality offered, the follow-back feature tracks the users that follow you. However, you can go weeks without receiving a single follower.
On the other hand, if you are patient with your progress, you will eventually gain more followers. Keeping that in mind, Kicksta believes in a slow but steady consumer recruitment strategy that avoids account flags or bans.
Tools To Check Followers
It's very important to keep track of the followers from when you started using Kicksta. Also, you should know if you want to invest in Kicksta in the next month.
Dashboard: Shows you the followers of your account.
Calendar: statistics to see the number of followers on particular days. It lets you keep track of the growth in a day.
Customer support
They have an excellent customer support history. Regardless of which package you choose, customer service will always be available to you. Although the Creative plan does not include a live chat option, you may still contact them anytime via email, and they will respond. They have some useful (although brief) video lessons to help you get started as a newbie.
Additional Highlights
Along with the key features provided by Kicksta, there are some highlighted functions that it offers. These features have taken this platform to another level. These are:
FAQ Page On Instagram
There's a FAQ and a support page. The most commonly requested and fairly related questions can be found on Kicksta's Instagram support page. Filtering options by region, hashtag, or name allows users to interact with your target audience while avoiding larger audiences that you want to avoid.
Additional Security
Security. It's a safe website. SSL, a security layer, has been added to the website, reducing the possibility of site attacks. As a result, logging in and providing your credentials on this site is secure.
They can also be found via Google's search engine. Associating with a website that cannot ensure the security of your information is risky. The absence of an SSL certificate is the first sign of a possible hoax. The client has lost faith in organizations that use HTTPS security.
Cost Feasibility
Not only does it involve low-cost pricing, but you will also get a lot of flexibility in terms of pricing. There aren't any hidden costs. The site specifies its pricing schemes and indicates that it is a one-time payment. It means that before enrolling, you are completely aware of what you are agreeing to. It also gives a 14-day money-back guarantee if you are not satisfied with the program.
Real Followers
You will get real followers. Kicksta helps real potential followers to see your account and choose whether or not they want to like your images and follow you back on an organic basis. In other Instagram growing platforms, you have a risk of getting fake followers, which must warn the authorities about your account. I will result in banning your account, but with Kicksta, you don't have that risk as there is nothing shady happening with it.
Test to Check if Kicksta Offers What it Claims


A test was conducted by smallbiz.tools to test whether Kicksta lives up to its name. The test was conducted by keeping a 1-month time duration in mind.
So what they did was to monitor their follower numbers from May 29 to June 21. Their target audience was around 40, which included both accounts and hashtags.
The result shows that their followers have gone from 12 to 295 in 21 days. The graph showed a gradual growth in the number of followers as the day increased. To reach 50 followers, it only took about 5 days.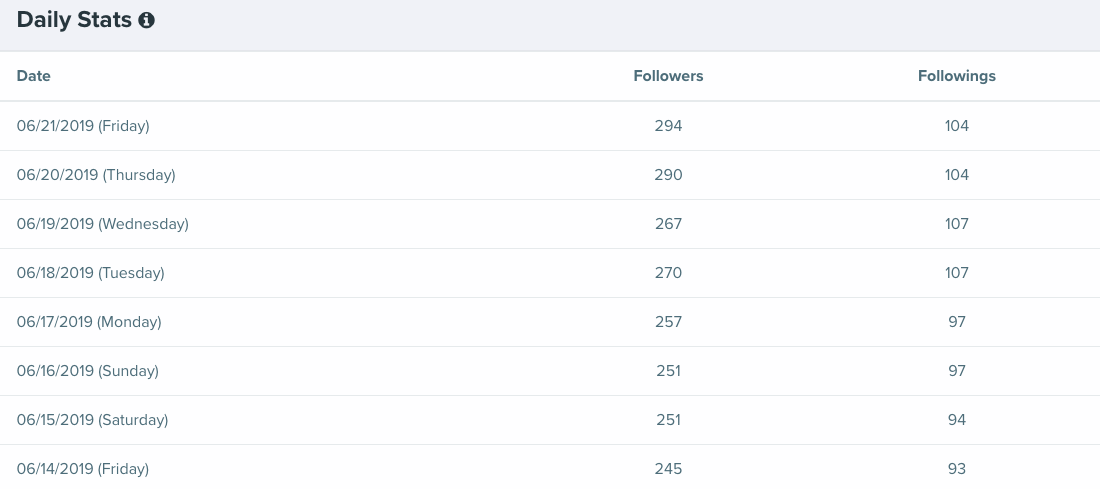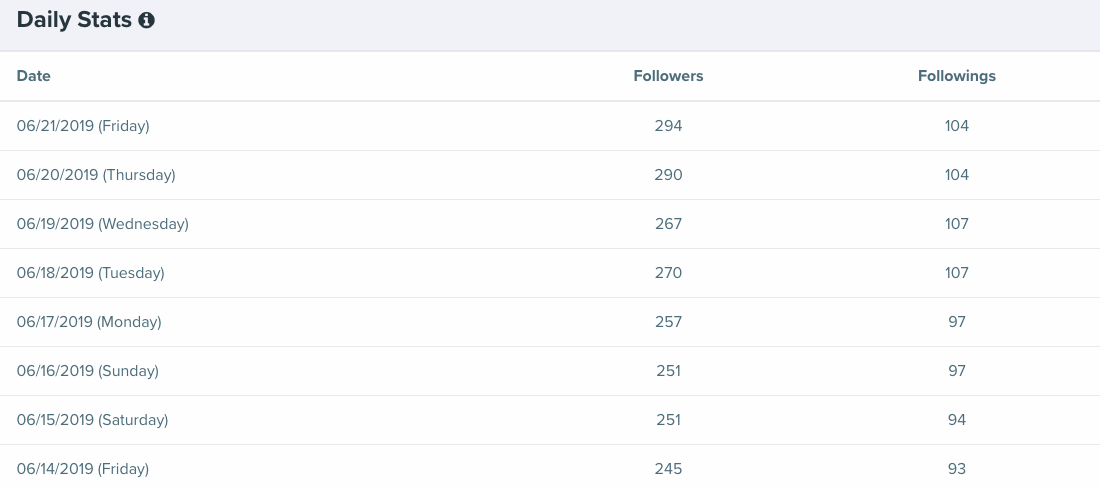 Pricing of Kicksta
Kicksta has three packages for users, which are the "Standard Package", the "Premium Package" and the "Boost + Premium Package".
All the Kicksta monthly plans include onboarding courses, irrespective of what kind of plan you choose. Also, Kicksta gives you multiple feasible options like "Pay As You Go", "cancel anytime", and "14-Day Money Back", which give you multiple options to try Kicksta or retract anytime you want.
Here is a detailed breakdown of all the packages Kicksta offers:
| Title | Standard | Premium | Boost+ Premium |
| --- | --- | --- | --- |
| Growth Speed | Moderate | Max | Max |
| Instagram Target | 10 | 40 | 40 |
| VIP Email Support | None | Yes | Yes |
| Advanced Targeting | None | Yes | Yes |
| Price | $49/month | $99/month | $218/month |
All the packages might seem a little bit expensive. But these might be worth it if you want to grow your Instagram followers and your business.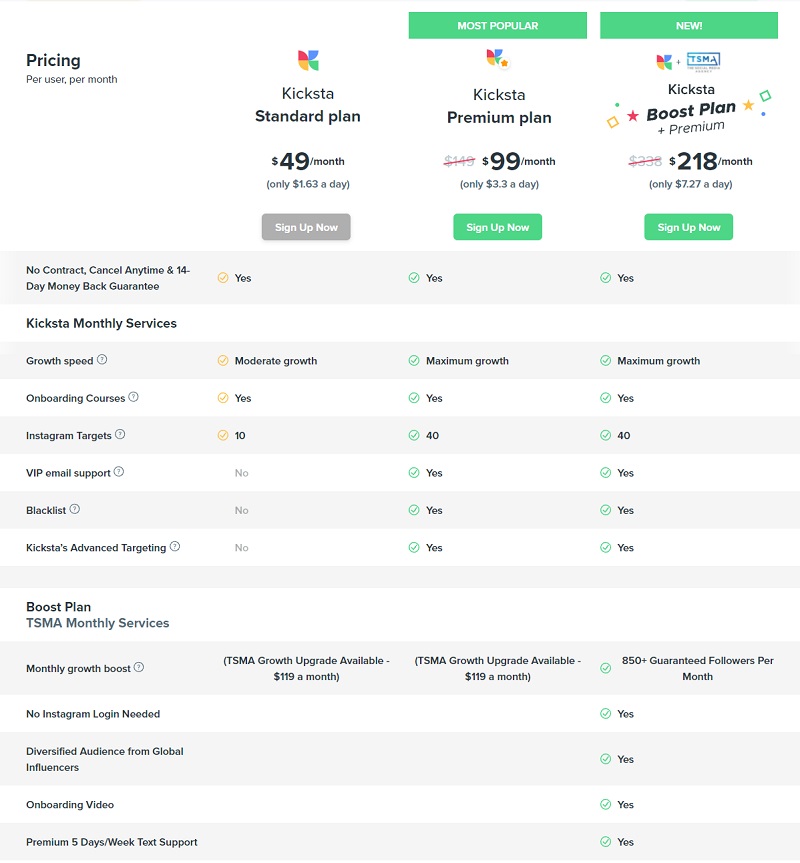 Will Kicksta Violate The Instagram Community Guidelines?
Instagram has a zero-tolerance policy for anyone who sells fraudulent accounts. When the security surveillance identifies bots, fake followers, or any other suspicious activity in your profile, they do not issue warnings and instead immediately block your profile.
But Kicksta conducted a thorough investigation and determined that this gap could be exploited. So how it increases followers without raising suspicions is that it has an automatic photo liking mechanism that behaves in a human-like manner.
The frequency of their likes is set by Instagram's rules. The best part is that any new followers you gain as a result of this method will keep following you.
Is Kicksta Worth The Cost?
Yes, these are the reasons why you should invest in Kicksta if you want to grow your followers.
Kicksta is an extremely secure platform. They will only utilize your login details for liking pictures; there have been no previous incidents of account details being sold or misused.
You may delete the account if you want to use it anymore. No personal credentials will be shared again.
Unlike certain tools which use bots where followers come and go at any moment, your followers will be constant.
Conclusion
Were you hoping your questions would be answered through a full Kicksta review? Well, now you have it, and you know that Kicksta is an Instagram growth tool that is easy to use. It's the perfect growth tool if you want to develop your account without any risk and don't want to buy a bunch of fake 5000 Instagram followers.
It is perfect for you if you are seeking a large number of organic followers who aren't temporary and limited to a local area. Also, you can indeed rest assured that your profile will not be marked as spam because Kicksta never publishes or comments if you don't want it.